Do you need a quality lock for your warehouse?
Consider the Block Lock from Chinrose International.
Constructed with stainless steel armor plate on a solid brass body for additional protection against the harshest weather and corrosive environments.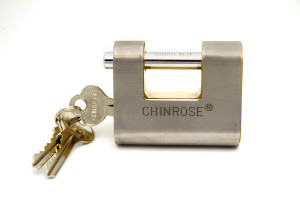 Rectangular in shape, this special design of the key entry and the shackle drop down on the same end is a perfect fit in the narrow lock boxes on container doors, warehouse doors and connecting chains.
Spring loaded shackle
Key retaining mechanism
Solid brass cylinder.
Keyed Alike Available
Master Keyed
Private Label
Available in Box Pack for Retail Sales
Best Used For:
Containers
Warehouses
Gates, Fences or Sheds
Vending Machines
Recycling Industry
Cable Boxes, Utility Boxes and Substations
Manufacturing Environment
Interior and Exterior Use
Commercial, Industrial and Storefronts
To learn more:
Call us at 
Telephone: (888) 887-7553 or  (503) 357-7553