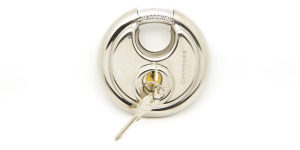 The Stainless Steel Disc Padlocks are very popular locks providing high security. The lock is designed with a shrouded shackle.
The shrouded body covers the majority of the shackle leaving only a limited area vulnerable to cutting or sawing.  It has a hardened steel shackle for extra cut resistance.
The key retaining feature ensures the padlock is not left unlocked.  The stainless steel is excellent for exterior use.
Specifications
| | | | | | |
| --- | --- | --- | --- | --- | --- |
| Item # | Body Width | Pins | Shackle Diameter | Vertical Shackle Clearance | Horizontal Shackle Clearance |
| D50 | 2"(50mm) | 4 | 1/4"(7mm) | 5/16"(8mm) | 11/16"(17mm) |
| D60 | 23/8"(60mm) | 5 | 5/16"(8mm) | 1/2"(13mm) | ¾"(19mm) |
| D70 | 23/4"(70mm) | 5 | 3/8"(9mm) | 11/16"(18mm) | 15/16"(24mm) |
| D80 | 3"(80mm) | 5 | 7/16"(12mm) | 3/4"(19mm) | 11/16"(27mm) |
| D90 | 31/2"(90mm) | 5 | 7/16"(12mm) | 29/32"(23mm) | 11/8"(28mm) |
| D70D | 23/4"(70mm) | NA | 2/5"(10mm) | 11/16"(18mm) | 13/16"(20mm) |
| D70C | 23/4"(70mm) | N/A | 3/8"(9mm) | 11/16"(18mm) | 7/8"(22mm) |
Product Features:
5 Pin Brass Cylinder
Anti Pick Mushroom Pins
Hardened Shackle
Laser Welded Stainless Steel Body
3 Drip Holes
Customization Options:
Keyed Alike Available in all Sizes
Red, Green and Yellow Painted Keyed Alike in Standard 23/4"(70mm) Size
Dimple Key
Keyless 4 Dial Resettable Combination
Private Label
Twin Pack 2 Standard Size 23/4"(70mm) Padlocks Keyed Alike
Best Used For:
Self Storage
Portable Storage
Sea Containers
Recycling Containers
Vending Machines
Commercial, Industrial & Storefronts