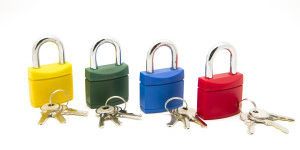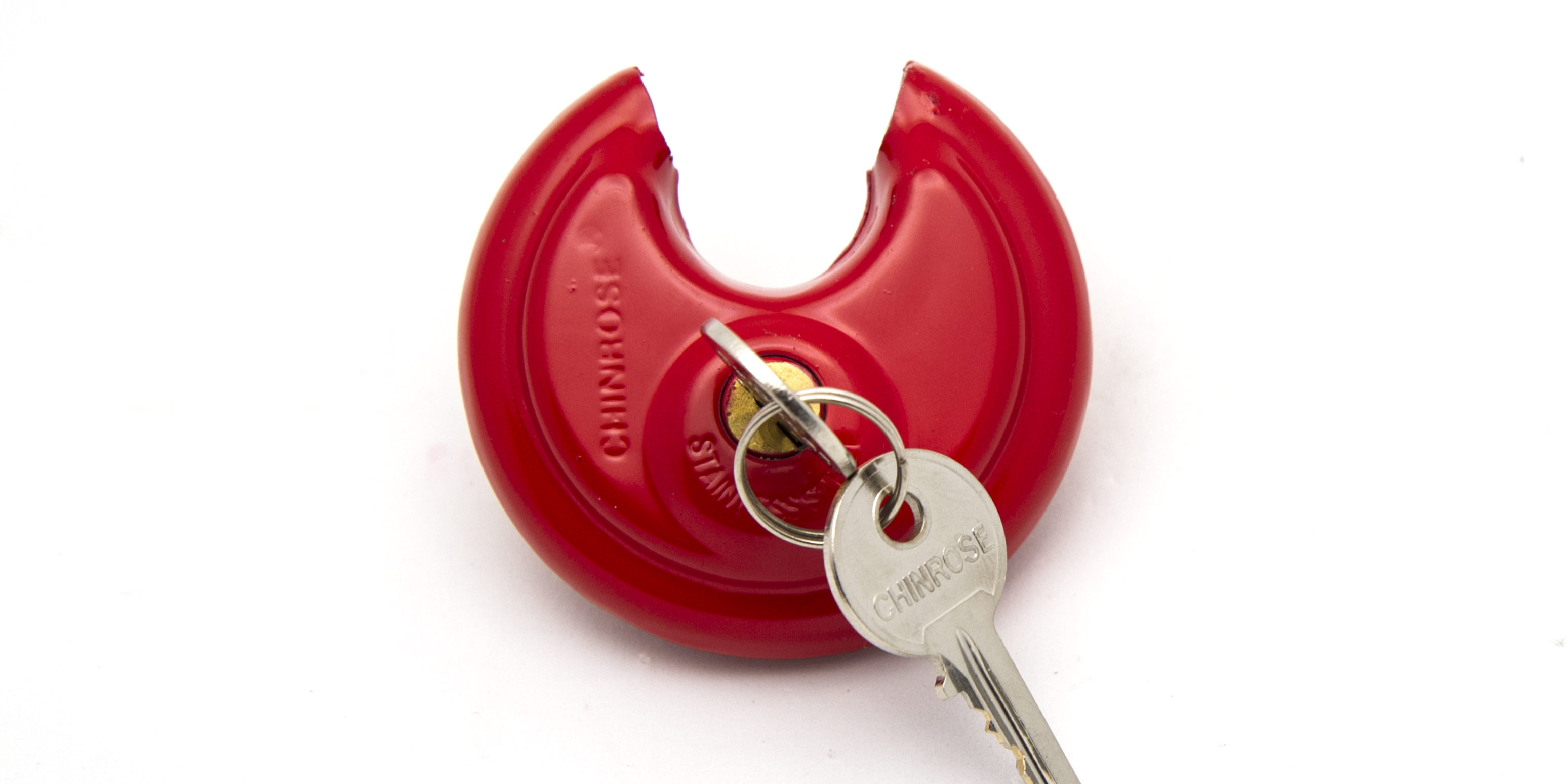 Management and Audit locks have the unique feature of being keyed alike.  The feature provides for multiple locks to be opened with the same key.  Other features such as color or labels are used to distinguish various uses or applications of the locks.
For example in the Self Storage industry the color red typically means a delinquent customer and yellow means available for rental.
Since Management and Audit functions are common to many industries we offer a full range of products for varying security requirements and environmental conditions from the painted stainless steel disc lock to the plastic seals.
Specifications
Item #
Body Width
Pins
Shackle Diameter
Vertical Shackle  Clearance
Horizontal Shackle Clearance

Stainless Steel Disc Lock painted Red, Yellow or Green

D70
23/4"(70mm)
5
3/8"(9mm)
7/8"(22mm)
11/16"(17mm)

Solid Iron Padlock in natural Grey or Painted Red, Yellow, Green or Blue

364
1"(25mm)
5
3/16"(5mm)
7/8"( 22mm)
3/4"(19mm)

Solid Iron Padlock encased in colored Plastic in Red, Yellow, Green or Blue

MAKA
11/4"(32mm)
  5
3/16"(5mm)
5/8"(16mm)
5/8"(16mm)

Solid Brass Padlock

264LO
11/2"(44mm)
5
1/4"(7mm)
7/8"(22mm)
3/4"(19mm)

Solid Brass Padlock engraved with WARNING SEE MANAGER

WMKA
13/4"(45mm)
5
1/4"(7mm)
7/8"(22mm)
3/4"(19mm)

Aluminum Padlock in Red, Yellow, Green or Blue

C40A
2"(50mm)
5
3/8"(9mm)
11/8"(29mm)
1"(24mm)

Nylon Body 19mm Cylinder Lock in Red or Yellow

CLKA
 3/4"(19mm)
 4
 N/A
 N/A
 N/A

Plastic Seals in Red, Yellow, Green or Blue

PS
21/2"(65mm)
5
7/16"(11mm)
11/4"(32 mm)
15/16"(33mm)

Safety Lockout Devise

SL420
1" Inside Diameter when Jaws are Closed
SL450
11/2" Inside Diameter when Jaws are Closed
Product Features:
Keyed Alike for Management and Audit purposes
Full Range of Product for a variety of Security Requirements
Full Range of Products for Environmental Conditions
Best Used For:
Self Storage
Gates, Fences or Sheds
Libraries
Industrial Machinery
Utility including Water and Power Meters
Commercial, Industrial and Storefronts