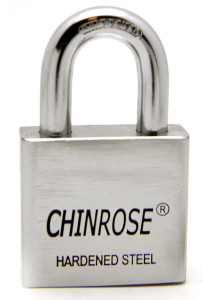 Chinrose International is an approved manufacturer of several National Stock Numbers (NSN's) by the U.S. Government for Laminated Steel and Laminated Brass Padlocks.
We are also an approved supplier of Thermal Encased Laminated Padlock and Resettable Laminated Steel Combination Padlocks.
We supply both the Chinrose® and Securus® brand padlocks to local, state and Federal agencies including the U.S. Military. 
We are an approved manufacturer of several locks and many of these are assembled in the Oregon facility.
These locks meet and exceed the applicable ASTM Performance Standards F883-09 including surreptitious entry requirements.
Assembly manuals and all applicable tests are available.
Laminated steel or brass padlocks in keyed different or keyed alike sets with varying shackle lengths are listed below by National Stock Number (NSN).  Included in this list are 4 dial resettable padlocks.
Also available are non-sparking thermal encased padlocks.
We have existing contract with the US Giovernment and other Federal organizations.