The Self Storage industry is very versatile; it serves customers from overflowing closets and garages to economically priced business storage.  Units can be rented from days to years, from lockers to portable containers dropped off at your address and moved to another location of your choice.
The most popular lock of choice for Self Storage is the round Stainless Steel Disc Lock (#D70) typical size 2¾" (70mm). The round design of this lock has a narrow opening, just enough to fit on the hasp, with minimal exposed shrouded shackle to prevent cutting with bolt cutters or saws.  The stainless steel body resists rust and corrosion for outdoor use.  Our brass pin cylinder has mushroom pins and deep key cuts to resist picking and a variety of keyways to reduce duplicate key cuts.
The second most popular lock for the Self Storage industry is the Cylinder Lock. This lock does not have any shackle to eliminate the risk of unauthorized removal with bolt cutters or saws.  This lock is available with tubular keys, which are difficult to duplicate, or with a standard flat key (19mm only).  The cylinder lock with tubular keys is available in 3 lengths, 11mm, 17mm, and 19mm.  The size depends on your door and latch.  The tubular key style has the additional feature of an overlock (override) capability.  With an override key, the unit can be locked out to the renter.  (This feature is not available with the flat key style.)
Management and Audit locks have the unique feature of being keyed alike.  The feature provides for multiple locks to be opened with the same key.  Other features such as color or labels are used to distinguish various uses or applications of the locks.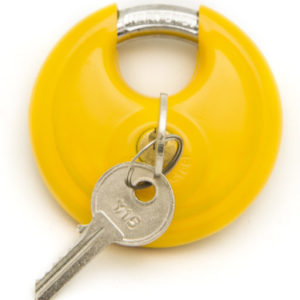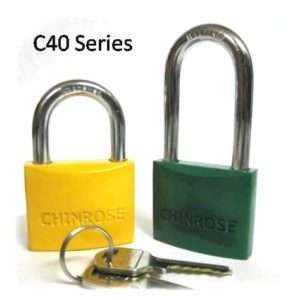 In the Self Storage industry the color red typically means a delinquent customer and yellow means available for rental.
Since Management and Audit functions are common to many industries we offer a full range of products for varying security requirements and environmental conditions from the painted stainless steel disc lock to the plastic seals.
Contact Us to learn more