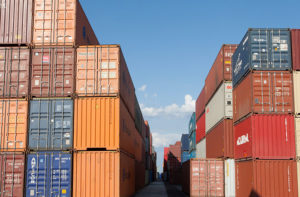 The Container Industry provides short term storage for retail customer's expansion and varying inventory needs, contractor storage, portable storage and mobile storage for personal to industrial demands.
The ocean transport (shipping) containers have several options for locking.  The bars can be locked with the round Stainless Steel Disc Lock (#D70) a 2¾" or a (#D80) 3 lock.
The Hidden Shackle Lock commonly called a "Hockey Puck Lock" due to its design is popular for this industry.  This is a high security lock made from solid steel, not a cast product.  This lock has no exposed shackle making it very secure. This lock is typically secured with a side or bottom opening Heavyweight Steel Hasp.
Many of the containers have a lock box for added security.  Depending on the depth of the lock box a standard shackle Brass Padlock,Laminated Steel Padlock or Commercial Padlock can be used.   Recent containers have narrow lock boxes which require the Block Lock designed specifically for this limited access.
The Portable Storage Industry uses the standard Laminated Steel Padlock or the Brass Padlock to secure containers.  These locks are available in keyed different and keyed alike.
In addition to the above locks, Chinrose International supplies a full range of other locks.  We also design locks when standard padlocks are not adequate.